#page-banner {background: url('/assets/Uploads/LIBRARY-104__FocusFillWzc2OCw3NjgsIngiLDE5MV0.jpg') 50% 50% / cover;} @media (min-width: 1200px) { #page-banner {background-image: url('/assets/Uploads/LIBRARY-104__FocusFillWzEyMDAsNzY4LCJ5IiwxNl0.jpg');} } @media (min-width: 1440px) { #page-banner {background-image: url('/assets/Uploads/LIBRARY-104__FocusFillWzE0NDAsNzY4LCJ5Iiw5Nl0.jpg');} }
Mobile Library
The Mobile Library visits 14 convenient spots around the Shire every week.
About the Mobile Library
Our Mobile Library brings the Library to you.
The Mobile Library visits 14 convenient spots around the Shire every week where you can borrow, browse and return, print and more. View the timetable below for a full list of times and locations.
Mobile Library Timetable
From Monday 27 February
New year, new look, new Mobile Library timetable!
We've made some improvements to the Mobile Library timetable so we can have more time to visit local schools, retirement villages, childcares and other community groups.
Some stops have been moved to new and improved locations, some times and days have changed to reach more people and some stops have been paused.
These changes will take effect from Monday 27 February.
Make sure to double check the time and location of your closest Mobile Library stop below.
Appin

Wednesdays
1.30pm - 4pm

Appin Park, Appin Rd

Bargo
Wednesdays
9.30am - 12pm
Railside Ave, Opposite Shops

Bingara Gorge

Tuesdays
2.30pm - 4pm

White St, Opposite School
Buxton
Fridays
1.30pm - 4pm
Telopea Park, Erith Rd
Douglas Park

Tuesdays
12.30pm - 2pm

Douglas Park Public School drop-off bay, 105 Camden Road
Menangle

Tuesdays
9.30am -11.30am

Dean McGrath Park, 18 Station Street
Mount Hunter

Mondays
9.30am - 10am

Next to

Mt Hunter Volunteer Rural Fire Station,

Opposite School

Oakdale

Mondays
10.30am - 12.30pm

Willis Park, 1515 Burragorang Road
Silverdale

Fridays
10am – 11.30am

Silverdale Rd Service Rd, Opp. Horse & Harpy
Tahmoor
Wednesdays
1pm - 4pm

Wollondilly Anglican Church carpark, 128 Remembrance Driveway

The Oaks

Mondays
1.30pm - 4pm

Barralier Park, Car Park, Opposite Shops

Thirlmere
Fridays
9.30am - 12.30pm

Thirlmere Memorial Park, Oaks St

Warragamba

Fridays
12.30pm - 2pm

Warragamba

Silverdale Neighbourhood Centre Fourteenth St

Yanderra
Tuesdays
1pm - 4pm

Birrahlee Playground, Harley St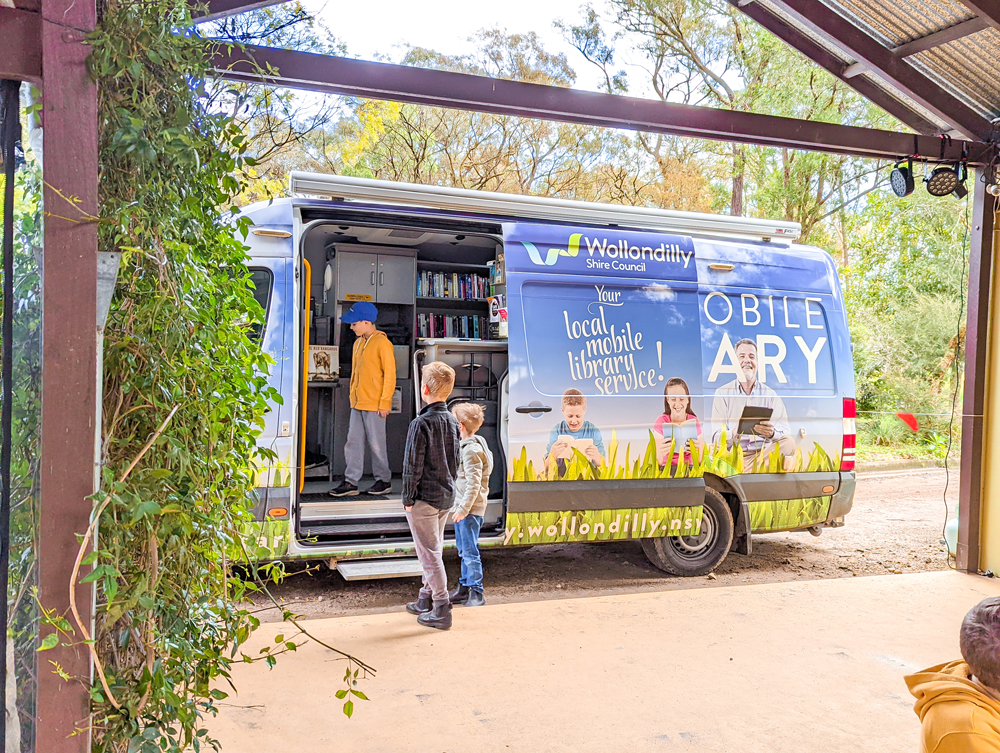 Would you like a visit from the Mobile Library?
Arrange a visit for your school, community group or organisation.